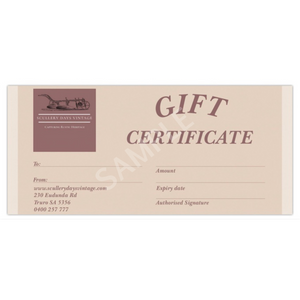 Scullery Days Vintage Gift Certificate
Gift certificates - when you just can't choose for the rust lover in your life!
Available in various denominations or custom amount - just drop us a line with the value you would like to see available!
Purchasing a gift certificate via the website generates a code sent via email. 
Alternatively, if you would like a physical gift certificate mailed out to you, or your recipient, then please contact us prior to purchase!
General Gift Certificate Terms: 
The Gift Certificates:
(i) are not redeemable for cash;
(ii) do not include any activation fees or added service fees, or fees that reduce the value of the certificate over time;
(iii) in situations where they are only partly redeemed, a further gift certificate will be issued for the unredeemed balance;
(iv) are supplied with an expiration date or a statement that the funds expire, generally of 12 months duration, and;
(v) are of single-use and closed-loop (i.e. the Gift Certificate may only be used at Scullery Days Vintage locations for purchase of goods and services from us and no other merchant or company).